Profile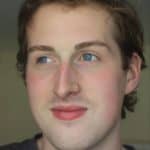 Jamie Gallagher
Glad to see a new chat booked- chaotic fun!
My CV
Education

Qualifications

Work History

I've always been a student.

Current Job

I do full time research for the University

Employer
My Work:

I grow tiny crystals that can turn body heat into electricity- I work to make little devices that could be powered just with body heat.

Read more

I'm a PhD student. This means I am studying to become a doctor of science. I work full time, it is just like a job. I get paid too. Every day I try experiments to get things to work a little bit better. My goal is to grow crystals that can gather up all the heat we waste in today's world. Just think of charging your phone while you walk around.
I also get to do lots of science communication. I have even worked with the BBC a couple of times. He is me recording in one of their studios.

My Typical Day:

I do lots of chemical reactions and then look at them under the microscope. I also X ray the crystals I grow to understand what goes on inside.

Read more

I work in a lab. Its a bit of a mixed lab. Bit of physics, bit of biology and lots of chemistry. I work with some very dangerous chemicals so I spend some time in a glovebox. This way I don't touch or breath them in. I melt the metals down and try to grow them into new and tiny crystals. I spend a lot of time on microscopes and taking X rays.


What I'd do with the prize money:

Write and tour a new science show to get young people excited about science.

Read more

I would love to be able to develop a new show and to be able to tour around the country. I have a real passion for science and I love being able to share that with other people especially if I can do some exciting demonstrations along the way.

My Interview

How would you describe yourself in 3 words?

curious, determined, performer,

Were you ever in trouble at school?

I once stuck a pencil in a plug. I was told it was dangerous but when I pointed out that it wasn't because wood didn't conduct electricity. I was almost thrown out of the subject.

Who is your favourite singer or band?

Bruce Springsteen

What is the most fun thing you've done?

Performed at Cheltenham science festival- the UK's biggest science festival

If you had 3 wishes for yourself what would they be? - be honest!

To discover something new and exciting, to make a real impact with my work.

Tell us a joke.

2 atoms walking down the street. One says to the other "I think I've just been ionized" "are you sure?" said the second. "yes, I'm positive"
My profile link:
https://ias.im/u.9572